A good wardrobe becomes great with a little effort and a lot of mixing and matching. It doesn't take much effort but with the addition of a few trinkets to your closet, you'll be ruling the fashion scene for a long time to come. These little trinkets are what we call the 'Wardrobe Staples.' They are low maintenance, ultra-glam, and absolutely fabulous! With these little babies by your side, you'll always be 'in it to win it' and nail every look in style!
We're sure that you own at least 80% of this staple list but it is how you style it that matters. Gone are the days of wearing your favorite pair of black leggings in the same mundane manner – because we've got you covered and we'll certainly take you that extra mile in style.
Button-Down White Shirt
Button down shirts have always been a classic! They are crisp, smart, and can rev up your fashion engines in a jiffy. Rather than wearing this the usual way, throw in some funky patches or badges to add a quirky splash of color to these white shirts.
Apart from that, white shirts are the perfect layering companion. You can layer them with possibly anything and ace the look. Style it with a slip dress, a subtle tube top, your favorite jumpsuit, or your evergreen sweaters to add that extra spark to your look. That was easy, right?
Basic Blue Denim Jeans
Now, this is something without which your wardrobe cannot even breathe. It's that one item in your wardrobe that ushers the life into it and makes everyday styling an easy job. With the variety of blue denim available in the market, you'll never run out of ways to style basic denim. But instead of spending a fortune on a new pair, you can easily revamp your old one!
Add some asymmetric slits here and there and you have a funky denim look ready in seconds, or cut the hem out of your old pair to give your 'new' pair of denim a raw and laid-back look. You may also add some embroidered patches on your denim to be in line with the latest fashion fad! Experiment that with an endless variety of footwear and you're good to go!
Pristine Moto Jacket
Some biker-chic shenanigans are a must and that is exactly what the moto jacket brings with it. It has a very gothic and rock undertone to it and brings oodles of sass to your look. A black moto jacket looks great with deep colored prints like ginghams and plaids and goes very well with some athleisure footwear.
To add a bit of a spin to your ensemble, you may also pair romantic mini dresses with a black moto jacket and experience the best of both worlds. A bit of quirk never harmed anyone, eh?
White Sneakers
Here comes the most loved of them all – the chunky, white sneakers in all their glory! These little entities have been a rave ever since their inception and there is no denying that their charm is catchy. Wear these to the gym, for a casual day out with your leggings, style it with your sporty bodycon, and so on! They are certainly the best you can get with style in the most effortless manner!
They're not just a casual day decision but are a total hit on the dressier side of fashion too! Never thought one pair of shoes could last you all seasons, right?
Lovely LBD
For all of you wondering what an LBD is – it's the little black dress. And consciously or unconsciously, we have plenty of these in our wardrobes. These are little pieces of happiness that surely make our lives easier and there are always no-brainer ways of dressing it up!
Add accessories to your LBD to enhance its shine. Throw in some romantic footwear and even experiment with a bit of layering to extract the best out of your classic LBD. There is never a wrong match here.
Timeless Cut Trouser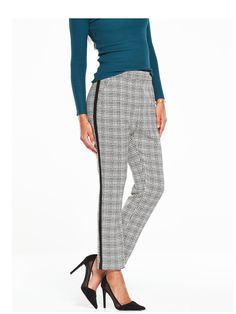 For a little more structure to your look, a classic pair of trousers are a must. We'd suggest you go for more neutral colors like white, nude, or black to stay in the element. Great silhouettes, sublime colors, and a good ensemble is ready right in front of you!
Want to take the formal part down a notch? Try combining these trousers with graphic tees and bomber jackets. They also look super scintillating with a pair of strappy heels! Girl, you're already on fire!
Jazzy Jumpsuit
Jumpsuits might be those underrated fashion choices that very few make but the charm of a jumpsuit is totally irresistible! Jumpsuits are a great way to add texture to your look and works well for all occasions.
Try different fits for different occasions and don't forget to style these beauties with the perfect arm-candy and the ideal footwear. Some capes and maxi jackets are also a fantastic make to dress it up a bit!
White Tee
When all else fails, the white tee never disappoints. Be it summer or winter, the classic white tee is perennial. It comes with great potential and can add the right amount of balance to every look! When it gets too over-the-top, the white tee will always bring it down for you!
Leggings
'You have enough leggings,' said no one – EVER! You can fit your entire wardrobe with leggings and still need more because they're an absolute blessing.
Comfort and style have never looked better and we're totally digging this one. Style it with formal shirts, romantic tops, or even those cute crop-tops and you're set! Don't forget to add those adorable accessories to complete your look.
Sharp Blazer
The layering game is incomplete without the key player here and that, my friend, is the blazer! A blazer can do wonders when you want to add a bit of 'edge' to your look! And, we don't even want to begin with how great they look against the right pair of heels! Style your blazers with ruffled tops to bring a smooth and suave transition to your look and sail through the night in style!