Traveling makes for a hectic lifestyle often moving from city to city, country to country rapidly. With such a capricious lifestyle, making friends and keeping up with exercise can be difficult. The answer to both of these problems is dancing salsa. Salsa is an activity that can remain permanently in an inconsistent lifestyle. The evidence can be observed in any salsa club. On the surface, the crowded dance floor seems just to be filled with dancers spinning, swaying, and sweating to the beat of the music, but below the surface, the salsa club is much more than just dancing. Pay attention more carefully and the most impressive elements surrounding salsa will become evident. Notice dancers sweating, laughing, learning, and socializing; these are the elements that make salsa special. Salsa is not just a dance that happens to be an insane workout, but most importantly, it is a community. A supportive community that can be found in just about any city in the world, making it the ideal exercise for the world traveler.
While salsa music and dancing is important to many Latin American countries in the Caribbean, its roots are in Cuba. Salsa is a relatively new music, developed in the 1900s, heavily influenced by Afro-Caribbean culture. Salsa has been brought to many countries since its creation and today, many countries have their own style of salsa. In Cuba there is Cuban and Casino style dancing; in Colombia, there is Caleño style; in Puerto Rico, there is, of course, Puertorriqueña salsa; and in the USA there is New York style also known as Mambo and LA style salsa, just to name a few.
With such a vast number of styles, salsa dancing is the perfect exercise to take-up for those who get bored with the mundane easily. There is always something new to learn, it's impossible to get bored. The health benefits are not just physical, but also beneficial in achieving happiness and mental health. Step into any salsa club to witness the intensity of this full-body workout. Inside watch dancers spend four to five hours per night dancing non-stop. To be a salsa dancer is also to be apart of a community of people who are always learning and helping each other. This community is a great resource to newcomers as friends, teachers, and guides to the salsa community in that area.
Salsa culture has permeated society in hundreds of countries, making it the perfect activity for the solo traveler. While traveling alone has its benefits, it also has its downfalls. Traveling alone sometimes can be, well, lonely. Going out alone is often awkward or looked at as strange by society. On the contrary, going to the salsa club alone is quite normal. Since it can be difficult to find friends that dance or have the desire to learn to dance salsa, many dancers start out by going to the salsa clubs alone to improve their dancing. In fact, due to the nature of social dancing, it is often better to go out dancing salsa alone. It's normal to dance with total strangers. Dancers change partners with each song, therefore meeting someone new with each dance, making this one of the most social and mobile exercises in the world.
With so many free lessons offered around the world, getting started is easy. Usually, each salsa club has a night where they offer free lessons geared towards beginners, hoping these beginners will stay for the remainder of the evening. These free lessons are a great way to meet people in the salsa community. Staying for a few dances can gain you access to the dancers that have details on the best free classes and which places are best to dance each day of the week. After one night of dancing, it's common to leave with a list of new friends that are eager to help you navigate the salsa scene.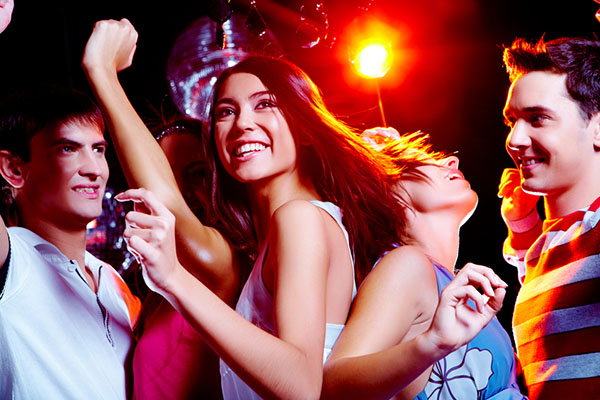 Finding the best places to dance in a new city requires some research. With a little bit of creative Googling, finding an article about where to dance in each city is usually pretty easy. Typically there is even a website or Facebook group dedicated to posting Latin dance events each night. Here is a short reference of places to dance around the world to get you started.
Los Angeles, USA – Monday nights at El Floridita Cuban Restaurant. Each Monday, you can find some the best salsa bands and some of the best dancing in the city. Monday nights here are famous in LA. On Monday nights, it's not uncommon to see someone famous here, spotting guests such as Wilder Valderrama, Jennifer Lopez, and Amber Heard. Free lessons start around 8:00 pm. Get there before 10:00 pm to avoid the line.
Medellín, Colombia – Wednesday through Saturday at Son Havana. On a quiet corner, a few blocks from the party district of La 70, Son Havana is a hidden gem. This simple salsa bar has great dancing Wednesdays and Thursdays, and live bands Fridays and Saturdays when the crowd doubles in size and dancing gets very intimate. It's easy to spend the night dancing here until 4:00 am.
Quito, Ecuador – Thursdays through Saturdays at Salsateca Lavoe. From the outside, Lavoe seems unwelcoming, but when you walk through the door everything changes. Lavoe is a large salsa club with a huge dance floor and many new dancers. Throughout the night there are impressive performances from local salsa and bachata teams. Remember Quito is in high altitude so take breaks and drink plenty of water.
Montpellier, France – Friday Nights at The O'liver Pub. While it may seem to be in the middle of nowhere, making it to The O'liver Pub is well worth it. The massive dance floor is full of friendly dancers of all levels. Free classes start at 8:00 pm.