Gelatin is actually created from collagen, which is the soft protein that connects muscle tissue, bones, skin, and tendons. While many people might not be thrilled to find out that their favorite snack is made up of animal parts, that's the main reason why it features such great health benefits.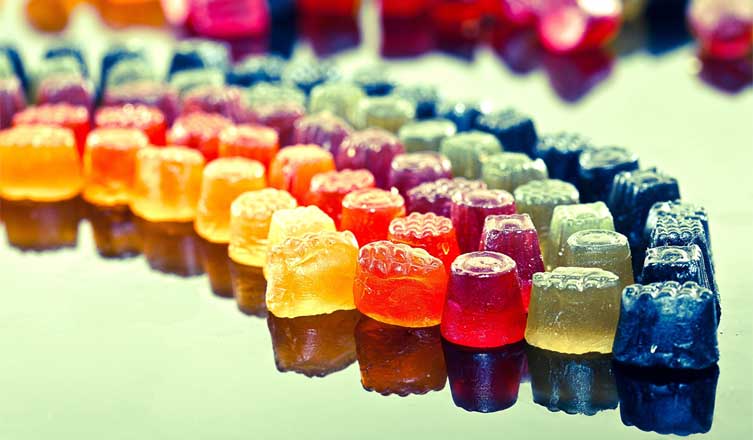 Gelatin contains a moderate amount of protein, as well as two amino acids that are beneficial for our health. The amino acids are only found in parts of animals that are rarely consumed. These amino acids are great for healthy joints, as well as improving skin, hair, and nail quality.
Here are some of the known health benefits of consuming gelatin:
1. Gelatin helps to ease inflammation.
Gelatin features anti-inflammatory properties that help treat inflammatory skin diseases such as psoriasis, dermatitis, eczema, and rosacea. If you're suffering from any of these conditions, simply applying medication topically may not be enough, especially if the cause of your inflammation is internal. Consuming gelatin regularly can help ease inflammation, reducing the appearance of redness and irritation on the surface of the skin.
2. Gelatin aids liver detoxification.
Glycine is essential for helping our bodies handle the natural detoxification process. This amino acid helps support your liver with flushing unwanted toxins out of the body. Your liver is limited in its potential based on the amount of glycine available in your body, therefore it makes sense to include more of it in your diet from sources like gelatin (1). Without sufficient glycine available, your body is incapable of producing enough glutathione, which is a vital part of the liver detoxification process. Toxin build-up will show up in the skin, hair, and nails because these three are the last to be supplied with nutrients.
3. Gelatin helps prevent UV damage to the skin.
Gelatin plays an important role in preventing damage to your skin from UV rays. This helps prevent skin cancer, free radical damage, and premature wrinkling. Our bodies gradually begin to lose collagen starting around our late 20s or early 30s. As a result of this, there's an increase in the development of cellulite, age lines, and loose skin. Supplementing with gelatin and collagen is a well-known method of preventing this from occurring, and even plays a role in reducing visible signs of aging.
4. Gelatin promotes cell regeneration, helping the skin appear healthier.
Not only does collagen and gelatin help with cellular regeneration to keep your skin looking healthier, it's also important in maintaining strong and healthy teeth, nails, and hair. The body is constantly turning over new cells, and it's important that the skin has adequate nutrients from within to support this process.
5. Gelatin can help improve sleep quality.
Gelatin ingestion before bedtime has been shown to tremendously improve the overall quality of sleep, resulting in a more rested feeling the following day. Individuals who frequently have trouble falling asleep, and staying asleep throughout the night, can dramatically shorten the time it takes to fall asleep while boosting the quality of their sleep thanks to the glycine found in gelatin. Without adequate sleep, your body doesn't have time to repair itself, which could result in a dull, dreary complexion.
Other Health Benefits of Gelatin
1. Gelatin may enhance mood.
The glycine found in gelatin is an inhibitory neurotransmitter. What this means is that the amino acid acts very similarly to anti-depressant and anti-anxiety medications. The main draw for gelatin is that as an all-natural food source, it doesn't carry many of the common side effects associated with prescription medications.
2. Gelatin may boost cognitive function.
Gelatin has been shown to increase cognitive functioning in healthy adults, making it easier to learn and retain new information. In addition to ensuring you get a proper night's rest which is important for healthy brain function, glycine also helps to calm excessive excitability within your brain, helping you to stay calm and focused. This calming effect is yet another reason why it also works so well in managing symptoms of anxiety and depression.
3. Gelatin promotes cardiovascular health.
While protein sources like animal meats and eggs can be quite healthy when consumed in moderation when you eat a lot of these products it can raise levels of the amino acid methionine in your body. Excessive levels of methionine raise the amount of homocysteine in your blood. Heightened levels of homocysteine put you at an increased risk of cardiovascular issues such as heart disease and stroke. Gelatin will help to balance out the methionine in your body, reducing the unwanted side effects.
4. Gelatin helps to improve your digestive system and gut health.
Gelatin is fantastic for balancing your gut health. It works to restore adequate mucosal lining in your stomach while also helping to balance out your stomach acid contents with digestive enzymes. With an improved intestinal lining, you can help prevent conditions such as leaky gut syndrome. It's also capable of absorbing the fluids in your stomach, helping to improve symptoms such as constipation while preventing fluid retention.
5. Gelatin helps keep your bones strong and healthy.
Gelatin is extremely rich in minerals such as magnesium, calcium, phosphorus, sulfur, and silicon, all of which help with the formation of bones and keeping them strong and healthy, preventing bone loss or fracturing. Not only does gelatin help maintain a healthy skeletal system, but it's also effective in treating bone-related conditions such as osteoporosis and easing the pain suffered by individuals dealing with these diseases. It's even possible that collagen is capable of increasing bone mass density, something post-menopausal women should take note of since bone mass density drops after menopause.