Well, I can't speak for everyone, but I definitely speak for most when I say that sex is a sensitive subject regardless of whom you're doing it with. Having sex with just one person can get boring eventually, the initial fire gradually dies down and sex starts becoming a chore. When this happens, you need something to breathe life back into your relationship. This means exploring and trying out new things in the bedroom. Relax, I don't mean buying a gallon of lube or buying the Kamasutra, nothing that adventurous… yet. When I mean explore, I mean trying new sex positions.
This might sound crazy, but I'm telling you, a little pleasure doesn't hurt anybody. Exploring is not for everybody and that's ok. Some people aren't wired that way, however, if you want that spark back then you should definitely try some of these sex positions.
The bridge
A true sex position from the pages of the Kamasutra. It requires lying down from the ground and pushing your torso up from the ground and holding it at the level where he can penetrate. This position requires a lot of flexibility and strength, so don't be bummed out if you and your partner can only maintain the bridge for a couple of seconds. This move is one of the more adventurous moves, and it gives you an excuse to show him how athletic you are.
The piledriver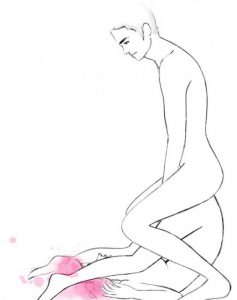 This sex position sounds and looks painful doesn't it? Sounds like a pro-wrestling move or something. Well, it's the exact opposite. This position eliminates all the space between you two and ensures maximum penetration. Don't worry, it's not as boring as it sounds. Believe me, you're in for a roller coaster. This position, much like the first one, requires a degree of flexibility on both parts. But unlike the first one, it doesn't require a lot strength. This position is a bit on the wild side, so I would recommend you pace yourself.
High knee
The high knee is a simple, yet exciting sex position. You'll feel kind of silly that you didn't think of it before. It involves you and your partner getting on your knees in a comfortable position. You both lift a knee so that his left knee is raised while your right is raised. Then you just both go to town on each other. The high knee is best when done on a bed. You don't want your knees to get tired or bruised mid-sex. 
X marks the spot
This position starts out by laying back on a horizontal surface, then he penetrates from the vagina. It's called X marks the spot because the legs are crossed as he penetrates. This position can be done on virtually any surface. The bed, table, countertop, take your pick. 
The high chair position
This position is my favorite on this list. You just get to sit down and let him pound. This position is fantastic through the vagina and even better with anal. The angle of this position facilitates the perfect entry. It's unlike a lot of generic positions will get you there.
Reverse cowgirl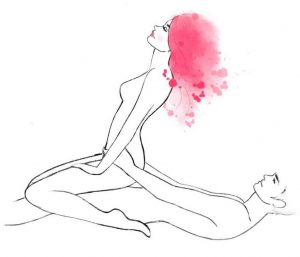 This is a treat for the guy; the reverse cowgirl is just the cowgirl in reverse. Instead of looking into his eyes as you ride him, he will be staring at your ass while you rock him. The best thing about cowgirl positions is the control it brings. These kinds of positions allow you to control the depth and speed. Something that makes the experience totally different.
Woman lying on top
This position holds a special place in my heart. I like to sometimes call it the 'inverted doggy-style.' It involves the man lying under and you laying on him as he keeps your thighs closed and trust upward. You should try to keep your legs together throughout. This tightness puts extra pressure on the clitoris and that's where you want all the extra friction to go.
Doggy-style oral
No traverse into the unknown is complete without covering all the bases. Oral sex is what lays the groundwork for a proper orgasm and it's the most important part of foreplay, but enough of that… let's describe the position. You start off by getting in the doggy-style position and then you let him go down on you from that angle.
These positions are a combination of weird, flexible, and unconventional. They are bound to put the spark back in your relationship. You don't necessarily need to have a slow sex life with your partner to try this out, you can even try them out just cause you want to. These positions don't even begin to scratch the surface of great sexual positions, there are numerous others out there and I suggest you go go after it.